|| ROPE SPIRIT X. || 18.01.2020 ||
Hell Events in cooperation with Edna the first lady of the Czech shibari scene, providing eleventh Rope Spirit. A night of Japanese bondage.
Take a look a the last event through lenses of our photographers.
Performers
On the eleventh Rope Spirit will perform: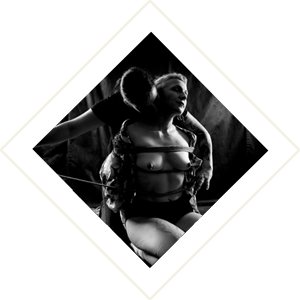 Edna & Sikra
Two exceptional ladies will share the Rope Spirit's stage to let the audience sneak into their world of shared intimacy.The way these ladies tie together will reveal the meaning of shibari- honest emotions build upon trust and respect, also balancing on the edge between domination and submission, pain and pleasure.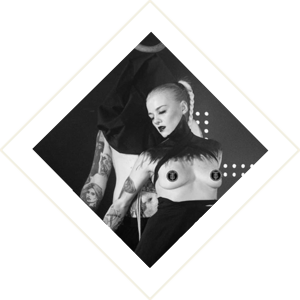 Skinny Red
The next guest is legendary performer Skinny Red- well known for her selfbondage acts with breathtaking aestethics. To be tied and to tie at the same time takes a lot of courage and focus and this lady has it all. She and her nevereneding energy leave the audience speechless.Visitors of Rope Spirit can look forward to very rare show where she wont't be on a stage alone, but she will be sharing it with her life partner. So true and deep emotions with outstanding visuals are guaranteed.
Frater & Ischemia
The next performers are russian couple Frater and Ischemia. Frater's way of tying is based on three elements – on absolute focus on his partner, on rhytm and working with pain. If you seek a technically easy shibari that creates deep experience, this is a show you shouldn't miss.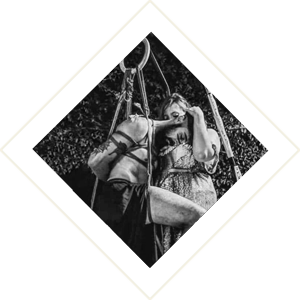 Red Lily
Next Rope Spirit performer will be italian rigger Red Lily. Red ropes that build love connections: this is Red Lily's bondage. Red Lily is a performer and Shibari teacher. She researches new forms of expression tied to bondage outside of BDSM standards, to discover emotions that reach deep within the soul rather than just reaching the flesh. She leads bondage classes in Rome with Ritual LAB project, she teaches and performs often abroad in big events and festivals such as Eurix, Moscow Knot, RopeFest, L'École des Cordes and holds workshops in the main Italian and European cities.
Nawahugo & Lusa
The last couple performing in two weeks is Nawahugo and Lusa. When Nawahugo visited Rope Spirit few years ago he fell in love with shibari instantly and started his studies shortly after. He found the biggest passion in Naka Ryu. He loves to play with emotions and pain, but he also seeks the beauty of bound woman's body. His partner will be Lusa, well known at slovakian shibari scene, both as riger and model. Audience of Rope Spirit can be looking foward to their intense and very intimate show.
Performances of Rope Spirit X.
Rules
During the Rope Spirit event, we have a strict no-photo policy. Photographs taken by our acreditet photographers are publicised just days after the event. After the last show has concluded, we open up the floor for your tying. Please, respect the privacy of others and do not interfere, or disturb otherwise other visitors. Thank You.
Workshops
Fell in love with japanese bondage and now you are interested in learning more? The event organisers of Rope Spirit are also bringing youu shibari workshops, for both beginners and intermidiate riggers.
For more information, please contact us at Edna@hell.cz