ROPE SPIRIT IX. || 19.01.2019
The implementation team of the Hell studio is in cooperation with Edna the first lady of the Czech shibari scene, providing ninth Rope Spirit. A night of Japanese bondage.
Ninth Rope Spirit!
What's waiting for you?
Saturday, 19.01.2019, P.M. club in the heart of Prague.
Doors: 18:30
Performers
The ninth Ropespirit will host performances from:
Sandro and Maiko studied with many riggers, but found themselves when they met and started studying with Ricardo Wildties. Through his influences, and influences of Naka Ryu, they now perform intimate shows to audiences from all around the world.
Czech performance duo, rigger Bugther and his tying partner GEO are well known performes at Rope Spirit. This time, they prepared a performance unlike any you have ever seen. A must see for everyone who likes men tying men.
After three years, Nawasabi is coming back to Prague. Those of you, who seen his last performance know, that you have a great one to look forward to. Those of you that missed him last time can make up for that now. Nawasabi studied with many current masters of kinbaku, including Osada Steve, Yukimura Haruki or Nawashi Kanna. With his partner, he'll perform a show based upon traditional semenawa.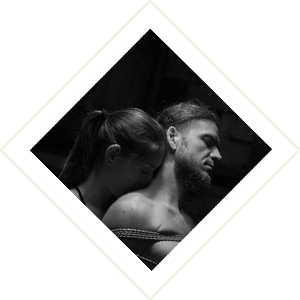 Goldie Sunshine and her partner Daniel Rope will perform an amazing show, appreciated especially by people who enjoy seeing women tying men. The world traveling duo will perform a dynamic show, full of passion and aesthetics.
Rope spirit will also host a performance by a well-known Czech rigger Edna. Aesthetics of her rope are often very minimalistic, and her partners put in challenging positions. This performance will be like none you have ever seen.
Performances of Rope Spirit VIII.
Tickets
PRESALE
Tickets are on sale at studio Hell.cz, Přístavní 7, Prague,
or online, through HellEvents.cz
Rules
During the Rope Spirit event, we have a strict no-photo policy. Photographs taken by our acreditet photographers are publicised just days after the event. After the last show has concluded, we open up the floor for your tying. Please, respect the privacy of others and do not interfere, or disturb otherwise other visitors. Thank You.
Workshops
Fell in love with japanese bondage and now you are interested in learning more? The event organisers of Rope Spirit are also bringing youu shibari workshops, for both beginners and intermidiate riggers.
For more information, please contact us at Edna@hell.cz