|| ROPE SPIRIT XIII. || 26.06.2021 || 18:00
Hell Events in cooperation with Edna the first lady of the Czech shibari scene, providing thirteenth Rope Spirit. A night of Japanese bondage.
Performers at Rope Spirit XIII.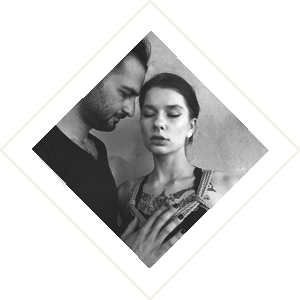 Kaord & Kye
Kaord & Kye are performing for the first time on stage. While Kye is a dancer who is used to perform naturally, Kaord got into rope bondage in 2019. He intents to connect with his partners through rope as a way to intimate with the mind, heart and spirit finding the balance between pain and pleasure. Being influenced by Aikido and occultism, Kaord seeks to transform itself in his sessions to be able to handle and exercise power.
Roman & Rozalka
The next couple of performers will come to Rope Spirit from Bratislava. Roman and Rozalka will perform publicly for the first time and audience will get the opportunity to watch some of their true D/s dynamics. Roman founded the Bratislava Dojo and has been the rigger, lector and rope maker for past three years. His sessions are journey to emotions, ropes are his tool to create strong bond to his partners. He is not a fake rigger and he never pretends, he likes to let partner and her emotions speak for him. The authencity of emotions is a typical sign of his way of tying.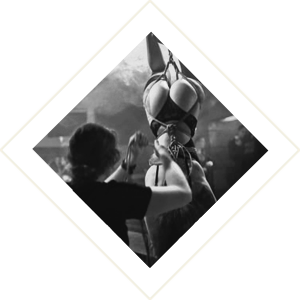 Noirot & Cat.rhin
Noirot and Cat.rhin were born to perform. You could have seen them both on the Rope Spirit stage separately, but now you will see them perform together for the first time. Noirot's tying combines natural work with the body and an attention to detail. For audiences he likes to create dramatic scenes into which Cat.rhin brings lightness and elegance. The audience will see a dynamic, yet sublime, show about trust, beauty, determination and that hiding under a mask sometimes reveals your face to anybody watching.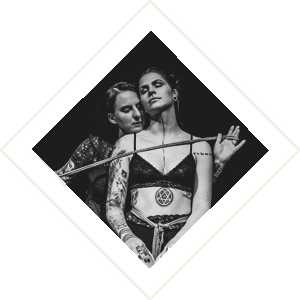 Edna & Nela
We all know that tying is about emotions, intimacy and respect. But how far you are willing to go in the name of devotion?
Edna and Nela will let the audience take part of intimate ritual, that cannot be done easily, ritual  that takes a lot of courage from people at both sides of rope. Ritual, that will change some things forever.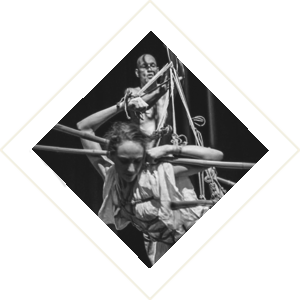 Felix Ruckert & Saara Rei
Felix Ruckert is very well known through whole European scene as rigger, performer, lector, workshop curatorm choreographer and vicual artist. Hen and his partner in crime Saara Rei will come from berlin and we are very lucky to heve them as guests of Rope Spirit.
This is a performance about dialogue. To act, react, propose, and discuss. Using sound, speech, silence, as well as movement, silliness, and gesture. And rope. Inner dialogue expressed externally, external dialogue expressed in the pauses. What comes out on stage is simply a conversation being witnessed.
Performances from Rope Spirit XII.
Tickets
Tickets are avaible online or at reception of studio Hell.cz
Rules
During the Rope Spirit event, we have a strict no-photo policy. Photographs taken by our acreditet photographers are publicised just days after the event. After the last show has concluded, we open up the floor for your tying. Please, respect the privacy of others and do not interfere, or disturb otherwise other visitors. Thank You.
Workshops
Fell in love with japanese bondage and now you are interested in learning more? The event organisers of Rope Spirit are also bringing youu shibari workshops, for both beginners and intermidiate riggers.
For more information, please contact us at Edna@hell.cz